SSP-03A AUTOMATED PROPANE DISPENSER
Our propane vending machines are available in standalone and modular units. Our products have two issued patents
#10,008,068 B2
issued 26 June 2018 and
#10,699,510 B2
issued 30 June 2020.
Our operational readiness rate for deployed machines is over 99%. The only moving parts are the electro mechanical locks which are guaranteed for one million cycles. On the rare occurrence that there is a fault, the operating system runs self- diagnostics prior to vending and will not vend a compartment with an error code (stuck door, locking sensor inop, no Cylinder detected, proximity sensor inop) and vends from the next operational compartment so the customer is always satisfied. The propane vending machine produces real time sales data so you never run out of cylinders and emails you when there are faults or when it is low on cylinders. The 5.6" touchscreen user interface is designed for outdoor use. An additional button mounted inside the customer interface compartment allows for cash sales by store employee if desired.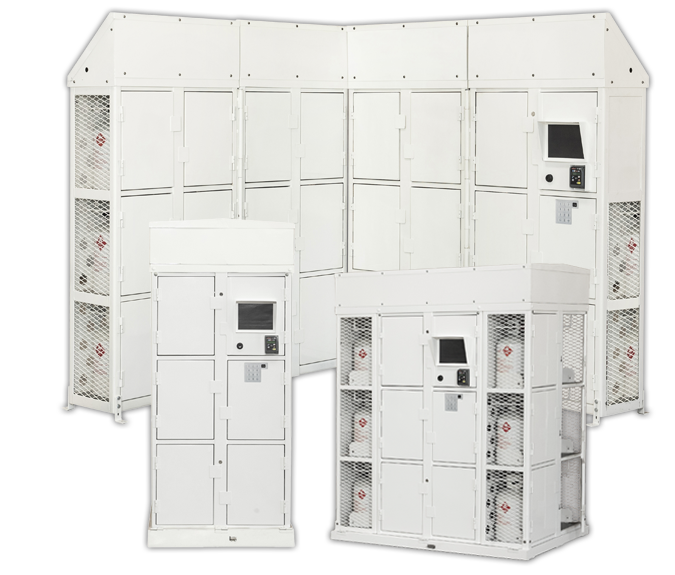 Class I Division 2 Certified
Outdoor Vending Certified
4G Encrypted Cellular Uplink
Specifications
Dimensions: Both modules are 33.5"L x 14.25"W x 72"H
Empty Weight: Approx 200Lbs
Construction: All steel construction, galvanized and powder coated.
11 Compartment
17 Compartment
23 Compartment
29 Compartment
35 Compartment
47 Compartment
59 Compartment
71 Compartment
Multiple Configurations
Straight line, hallway, back to back, "L" shaped
Both:
Use outdoor rated electro magnetic locks to open compartments
Magnetic proximity sensors to detect cylinders
Available manual lock on bottom compartment to allow vend when power is out or if machine malfunctions
Main:
User interface is a color 8" touchscreen designed for outdoor use
Outdoor rated card reader accepts all forms of credit/debit card payment on a 4G cellular system
ADA button allows for cylinders to be vended from only the mid level compartments
Another button mounted inside the customer interface compartment that allows for cash sales by store employee
Customer Aids
Operating system runs self diagnostic prior to vending and will not vend a compartment with an error code (stuck door, locking sensor inop, no Cylinder detected, proximity sensor inop)
If customer accidentally shuts door before removing Cylinder, door reopens and will continue to reopen until cylinder is removed
If customer fails to return cylinder or close door User interface prompts with the error
ADA button for mid and lower compartment sales
Clear simple instructions
Cylinder will only fit back into the compartment in the upright position and the compartment is sized so that when the door is closed the cylinder will be in the proper place for sensor to detect
Customer never knows if there are compartments that are not operable and the machine will continue to vend until all working compartments are vended
Anti-Theft
Individual compartments with individual locks require large investment of time and effort to defeat
The compartments are sized so that if the expanded metal on the door or side of the compartment is cut away, the cylinder will not fit through the compartment frame
The locks have more than 1200 lbs holding strength
If someone decides to put a ferrous object in the compartment other than the empty cylinder, their credit card information is already stored so any more than one attempt will easily identify the thief