We specialize in providing high quality, close tolerance custom metal fabrication, certified welding, and precision machining to a broad spectrum of industries. Our years of experience in ornamental metals such as aluminum, stainless, and steel fabrication makes us a leader in the metal industry. SBI and Star Guard have the capability to produce anything from small machine parts to 30-foot-long, 15,000-pound components, all in different alloys.
StepDex Ball-Mounted Hitch Step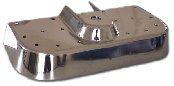 Features:
Marine-grade stainless steel, polished to a mirror finish
Functions: Provides easy truck bed or roof-top access
Benefit: 2 Large heavy duty non-slip rubber step surfaces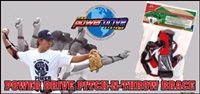 The Power Drive line of baseball and softball products. Training aid for all levels and ages. Develops hand-eye coordination, technique, muscle memory, and bat speed. Strengthen and improve hitting and pitching performance with the Power Drive System.